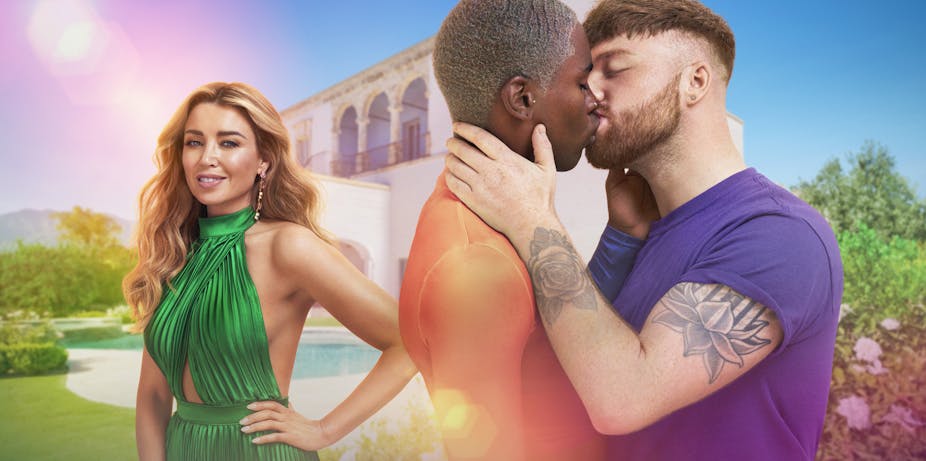 Early in the first episode of the BBC reality dating show I Kissed A Boy, glamorous pop star Danni Minogue descends a staircase to greet the all-male line-up of contestants. "Probably not the right heels for this," she admits.
"Don't worry, I've got another pair if they're no good," quips one of the men, Ollie, who sports an impressive moustache and a deep voice. Although the men have never met before, they quickly bond, finding common ground in this kind of camp humour, which has been the defining feature of gay or queer male friendships for centuries.
Camp is notoriously difficult to define, as I explain in my new book, Camp! The Story of the Attitude That Conquered The World. It can be an attitude, a style or a behaviour and it consists of several components – exaggeration, artificiality or theatricality, breaking social norms and silliness which results in humour.
If the effect is not intended to be funny, it is camp. If the effect is intentionally funny, then it is campy – a term more commonly used in the US than the UK.
Camp has not always been understood. During the Dublin Scandal trial in 1884, several prominent men were accused of engaging in indecent acts. A letter by a young man called Malcolm Johnston was read out to the court as evidence, containing the phrase, "Such camp!"
When giving evidence against the accused, Johnston was required to explain that it meant "proper amusement or … improper amusement". Camp made it into a dictionary in 1909, with the author sniffily noting it was "chiefly used by persons of exceptional want of character".
In the last half of the 20th century, camp was used as part of political protest. In 1969 at the riots over the raid of gay venue the Stonewall Inn in New York, patrons faced off police by forming a kick-line, parodying the dancers at Radio City Music Hall, the Rockettes.
And in 1990s UK, to counter the homophobic stance of the government, which had passed a law called Section 28 that made it difficult for homosexuality to be talked about in schools, the group The Sisters of Perpetual Indulgence used the camp language Polari in ceremonies that canonised notable LGBTQ+ people.
Camp controversy
Historically, not everyone in the gay community approved of camp. In the 1970s, groups like the Campaign for Homosexual Equality viewed camp comedian John Inman, who played Mr Humphreys in the sitcom Are You Being Served, as a harmful stereotype and picketed him outside theatres.
But rather than being the end of camp, the campaign instigated a conversation about lack of diversity in the media representation of gay men, something which would eventually be handled better in later decades.
In the present day, with strides made in LGBTQ+ equality, camp has gone from being a minority sensibility to a thing so ubiquitous that current commentators like Andrew Bolton, costume curator at the Metropolitan Museum of Art, have described it as "everywhere". "Camp: Notes on Fashion" was the theme of the 2021 Met Gala, hosted by the museum.
The Eurovision Song Contest could qualify as the camp Olympics, while even the recent coronation of Charles III could be seen as a camp extravaganza, with MP Penny Mordaunt's teal blue outfit with gold detail and matching cape and sword receiving accoclades from the cast of Game of Thrones and the speculation over Prince Harry's attendance giving the event distinct vibes of 1980s nighttime soap opera.
Protecting camp
Even conservatives have got in on the act. Gay artist and filmmaker Bruce LaBruce has talked about how Donald Trump has appropriated camp in his rallies, playing songs by The Village People and Dolly Parton.
LaBruce views camp as having been turned into a commodity for the masses, while journalist Constance Grady warns that Trump turned camp's playfulness into reckless cruelty.
But people have been proclaiming that camp is over for over a century. In 1920, Variety magazine reviewed an entertainment act writing: "The man during the talk leans a little too much to 'camping' for laughs. The day is past when that 'nance' stuff will get anything for anybody and it doesn't belong."
British comedian Joe Lycett is one of the strongest arguments for camp's current relevance to politics. Interviewed by journalist Laura Kuenssberg about a speech by Liz Truss, who was prime minister for a few weeks in 2022, Lycett dead-panned: "I'm actually very right wing. And I loved it. I thought she was very clear … You're reassured, I'm reassured."
The silliness of the statement, on a serious television show, made the statement camp – as were Lycett's tweets to Truss around the same time, in which he referred to her as "babe".
To draw attention to Qatar's dismal record on LGBTQ+ rights during the 2023 World Cup, Lycett, wearing a sparkly shirt, offered David Beckham an ultimatum: end his professional relationship with the Qatar before the first match, or Lycett would shred £10,000.
When Beckham did not respond, Lycett truly appeared to shred the money, wearing an enormous multi-coloured, frilled outfit. He later revealed that the shredding had been faked and he had donated the money to LGBT+ charities instead.
Lycett's clever use of camp helps to draw attention to important issues while also making people laugh. There will always be a role for camp in uniting outsiders, enabling them to laugh at their oppressors and, when needed, kicking back.

Paul Baker, Professor of Linguistics and English Language, Lancaster University
This article is republished from The Conversation under a Creative Commons license. Read the original article.
About Author